Det er over!
It's over!
C'est fini!
Es ist vorbei!
Het is weer voorbij!
We hope that everybody had a nice time here in Maastricht and we hopefully we meet again on 30th and 31th of May 2020!
Hav en god tur!
gute reise!
bon voyage!
have a good trip home!
Goede reis!
—————————————————————————
Euro-Sportring introduces: The Euro-Sportring Match Schedule App

Download the app and see your match schedule, actual results, standings and the latest information about your tournament. Download here.
Click here for the programm of the Girls Cup Maastricht!

Dit jaar organiseren de voetbalverenigingen Scharn en Keer alweer voor de 11e keer de Girls Cup Maastricht. Afgelopen jaren hebben wij dames/meisjesteams uit Zweden, Denemarken, Polen, Duitsland, Zwitserland, Frankrijk, België, England, Italië, Luxemburg en Nederland mogen verwelkomen.
Op 08 en 09 juni 2019 zullen wij in samenwerking met Euro-Sportring en meer dan 100 vrijwilligers weer een spetterend toernooi neer gaan zetten!
Wij wensen alle deelneemsters, scheidsrechters, vrijwilligers en supporters een sportieve en succesvolle Girls Cup Maastricht 2019 toe.
Michiel Bemelmans
Voorzitter Girls Cup Maastricht

This year the vv Scharn and RKVV Keer will organize the Girls Cup Maastricht for the 11th time. In recent years we have had women/girls teams from Sweden, Denmark, Poland, Germany, Switzerland, France, Belgium, the UK, Italy, Luxembourg and the Netherlands visiting us.
On the 08th and 09th of June 2019 in cooperation with Euro-Sportring and over 100 volunteers, we will have a fabulous tournament again!
We wish all participants, referees, volunteers and supporters a great time and lots of success!
Michiel Bemelmans
Chairman Girls Cup Maastricht

Beste voetbalvriendinnen en voetbalvrienden,
Namens het bestuur van VV Keer is het mij een groot genoegen jullie allemaal welkom te mogen heten als deelnemer aan de 11eeditie van de Girls Cup. VV Keer kijkt er naar uit om voor de derde keer een bijdrage te mogen leveren aan dit prachtige toernooi in samenwerking met VV Scharn en de Euro-Sportring.
Om twee redenen is de Girls Cup een bijzonder evenement.
Op de eerste plaats sluit de Girls Cup bij uitstek aan bij de spectaculaire groei van het dames- en meisjesvoetbal zoals die de afgelopen jaren onmiskenbaar heeft plaatsgevonden. Een ontwikkeling die bij VV Keer met 2 damesteams en 4 meisjesteams (waarvan 3 in samenwerking met VV Scharn) eveneens duidelijk zichtbaar is en waar we als vereniging trots op zijn!
En nog belangrijker is het gegeven dat tientallen meisjes- en damesteams niet alleen samen sporten, maar ook nieuwe contacten leggen en gezamenlijk sociaal actief zijn. Sport verbindt, ongeacht afkomst, nationaliteit of wat dies meer zij, en dat is zeker in deze tijd waarin we leven bepaald niet altijd vanzelfsprekend en daarmee uiterst belangrijk.
Het is dan ook dat ik alle deelneemsters en overige betrokkenen niet alleen een sportief, maar ook en vooral een heel leuk en gezellig toernooi toewens.
Een toernooi dat niet kan plaatsvinden zonder de inbreng van alle vrijwilligers en sponsors. Een groot woord van dank voor hun bereidheid en inzet om mede namens VV Keer van dit toernooi een groot voetbalfeest te maken is dan ook op zijn plaats. Chapeau!
Heel veel (voetbal)plezier en graag tot ziens bij de Girls Cup!
Raymond Partouns
Voorzitter VV Keer.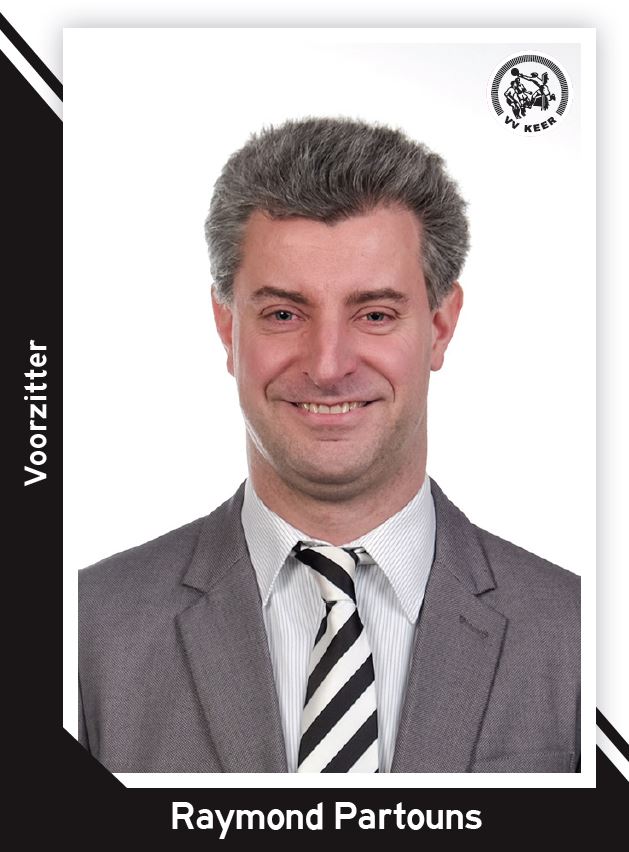 Dear football girls en friends,
On behalf of the board of VV Keer it is a pleasure for me to welcome you all as a participant in the 11th edition of the Girls Cup.
VV Keer is looking forward to being able to contribute for the third time to this wonderful tournament in cooperation with VV Scharn and the Euro-Sportring.
The Girls Cup is a special event for two reasons.
First of all the Girls Cup is a perfect example for the spectacular growth of women's and girls' football, which has clearly been the case in recent years. A development that is also clearly visible at VV Keer with 2 ladies teams and 4 girls' teams (3 together with VV Scharn), and which we are very proud of as a club!
And more importantly, the fact that dozens of girls and women's teams do not only play football together, but also make new contacts and socialize together. Sport connects, regardless of origin, nationality or whatever, and that is definitely in the time we live in now not always obvious and therefore extremely important.
Therefore I wish all participants and other people involved not only a sporty, but also and especially a very nice and fun tournament.
A tournament that can not take place without the input of all volunteers and sponsors. A big word of thanks for their willingness and commitment to make a big football party on behalf of VV Keer for this tournament is therefore in order. Chapeau!
Lots of (football) fun and see you at the Girls Cup!
Raymond Partouns
Chairman VV Keer.